Chili Lemon sauce, salsa al peperoncino e limone, organic, 100g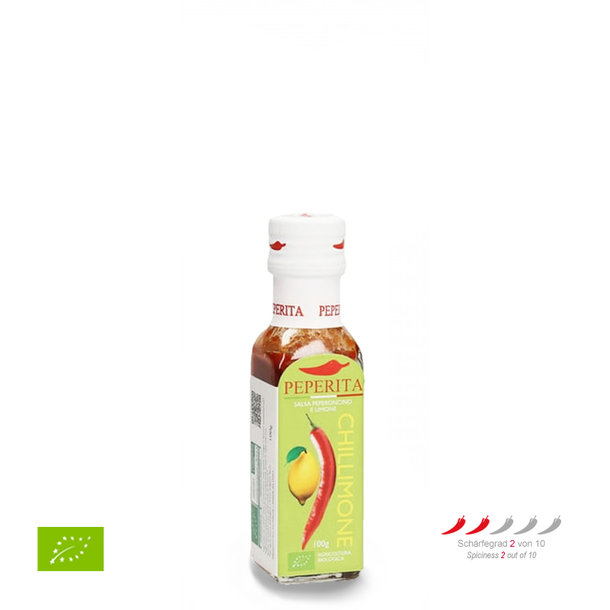 Scaled Prices
1 pc.
3 pc.
Stock
on stock
delivery 2-4 days
In the heart of Tuscany, between Bolgheri and Bibbona, the chilli peppers are produced according to organic and biodynamic standards. Lemon oil combined with chilli peppers from Capsicum Chinense chillies make an exquisite sauce that can be used in many ways.
Best suited for grilled beef, grilled vegetables and to refine sauces (e.g. mayonnaise with chillimone). Excellent with cooked fish or steamed vegetables. Also suitable as vinagrette (mix chillimone sauce with olive oil)
Ingredients: Capsicum Chinense chilli peppers*°, sea salt, apple vinegar*, essential lemon oil*.
*from recognised organic farming ICEA certified IT-BIO-009
°Demeter certified (biodynamic)
Nährwerte / Nutrition Facts
auf / per 100 g / ml

Energie / Energy

152 kJ

/ 36

kcal

Fett / Total Fat

0,7 g

davon: gesättigte Fettsäuren / of which: saturated fat

0,2 g

davon: einfach gesättigte Fettsäuren / of which: monosaturated fat


0,5 g

Kohlenhydrate / Carbohydrate

6,0

g

davon Zucker / of which sugar

2,9 g

Eiweiß / Protein

1,4 g

Salz / Salt

13,2 g
Do you have any questions on this item?
Customers who bought this product also bought these items: