Mani olive body butter, organic, 70g stick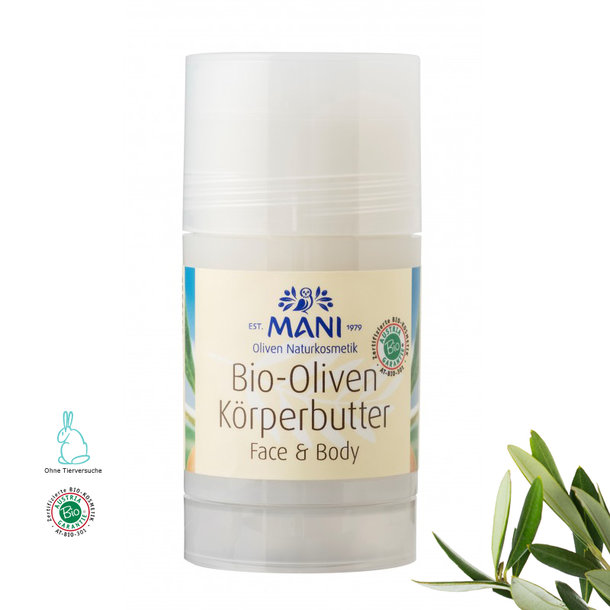 Scaled Prices
1 pc.
3 pc.
Stock
on stock
quick delivery
The OLIVE BODY BUTTER is a unique combination between our extra virgin organic olive oil, ground olive leaves, organic shea butter and cocoa butter from Africa, and the scent of Greek herbs.
Although you could also eat the piece of butter, it is not meant to make your skin soft to the touch. The name butter is chosen because it contains a lot of butter: Shea butter and cocoa butter from Africa. Like olive oil, shea butter is a precious highlight in skin care. It is the fat of the seeds of the 15 m high tropical shea tree, reminiscent of horse chestnuts. Shea butter has always been an important food and personal care product for Africans. The shea butter we process comes from a controlled organic fair trade women's project in Ghana.
Like the olive oil, shea butter also contains a high proportion of so-called fat accompanying substances, such as flavonoids, phytosterols, trace elements, flavouring substances and vitamins. These fat-accompanying substances are also called the ""unsaponifiable"" in cosmetics and fulfil important tasks. Flavonoids promote the renewal process of the skin cells. Vitamin E protects against so-called ""free radicals"", which are responsible for premature cell ageing and even cancer development. Vitamin A normalizes the cornification process of the skin. This means that with regular application horny skin becomes soft, but with thin, sensitive skin the cornification is stimulated so that it becomes more resistant. Phytosterols promote blood circulation and reduce irritation. The cell-building allantoin, also an important active ingredient in comfrey, should also be mentioned.
For whom and which skin?
The OLIVE BODY BUTTER is therefore an excellent product for every skin: it makes it soft and supple, the aging process is delayed, the connective tissue is strengthened, moisture is stored, the resistance is increased and in case of inflamed skin - also sunburn - the healing process is accelerated. Regular use prevents stretch marks, which are also good for children and the elderly. Just try it out for yourself, when and where it does you good! Olive oil and shea butter have a light sun protection.
Especially in the hot season, or when you are heated after bathing or showering, the cold butter is a pleasant sensory stimulus.
Ingredients: Shea butter*. Beeswax*. Olive oil*. Cocoa butter*. Green clay, ground olive leaves*. Natural vitamin E. Mixture of essential oils*.
Ingredients INCI: Butyrospermum Parkii Butter*. Cera Alba*. Olea Europaea Oil* . Theobroma Caco Butter*. Clay Illite, Olea Europaea Leaf Extract*. Tocopherol. flavor*: Citral**. Geraniol. Lemonene**. linalool**
*) from controlled organic cultivation **) component of natural essential oils
Do you have any questions on this item?
Customers who bought this product also bought these items: