Organic olive Moisturizer, organic, 100g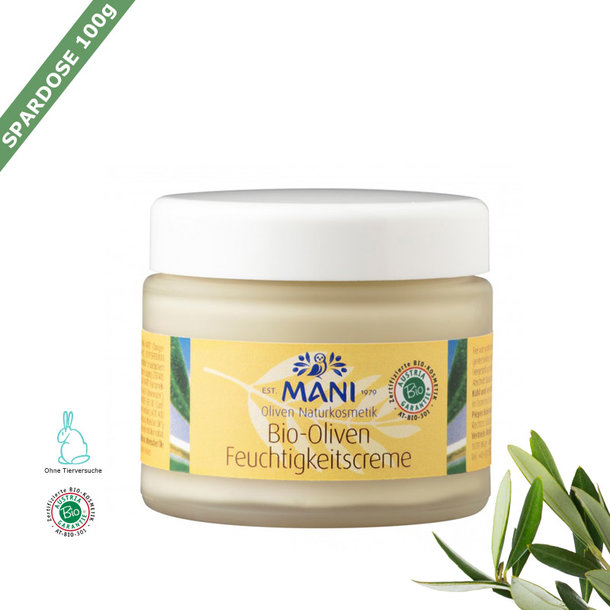 Scaled Prices
1 pc.
3 pc.
Stock
on stock
delivery 2-4 days
On stock: 3
Light cream for the day, for young or oily skin and as a make-up base.
Based on MANI organic olive oil. Raw materials from controlled biological. Cultivation. Free of synth. Fragrance and colouring. Without animal testing. Made in Austria by Maria Pieper Naturkosmetik. Store in a cool and sealed place.
Best before: see bottom
Batch No.: see bottom
Ingredients (full declaration): Orange Blossom Hydrolate*. MANI Organic Olive Oil*. Shea butter . Extract of olive leaves* in biological spirit of wine* . pflanzl. Emulsifier . natural alumina . Hamamelis water*. Aloe vera fresh plant juice*. Beeswax*. Wild rose seed oil*. Sea Buckthorn Oil*. Natural Vitamin E . Xanthan gum. preserved with sorbic acid. Mixture of essential oils: lavender*, tangerine green*, etc.
INCI components: Aqua Citrus Amara*. Olea Europaea*. Butyrospermum Parkii . Alcohol*, Olea Europaea*. Cetearyl Glucosides (and) Ceteryl Alcohol . Clay Illite . Hamamelis Virginiana*. Aloe Barbadensis*. Cera Alba*. Pink Canina*. Hippophae Rhamnoides*. Tocopherol . Xanthan Gum . Sorbid Acid . flavor*.
) From controlled biological. Cultivation. (AT-BIO-301)
Contains as a component of natural essential oils: limonene, linalool, geraniol, farnesol, citral, eugenol.
Do you have any questions on this item?
Related Products
Customers who bought this product also bought these items: