Olive toothpaste, organic, 80ml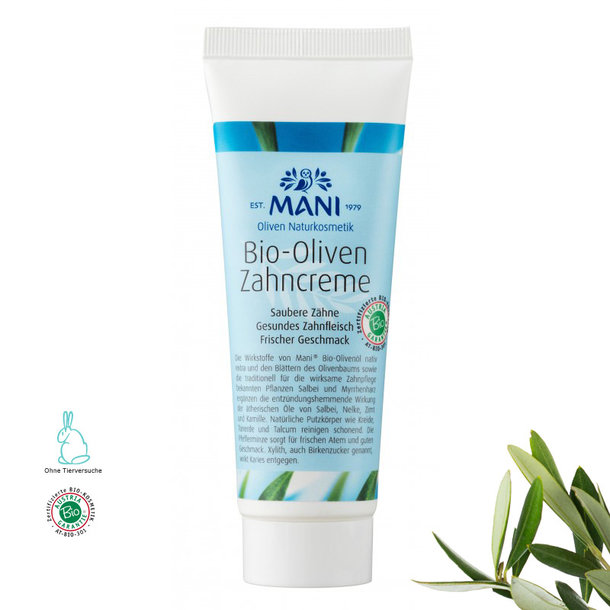 Scaled Prices
1 pc.
3 pc.
Price
0,08 Liter (€ 7,62 / 100 ml)
Stock
on stock
quick delivery
Natural cleaning agents such as clay, finely ground chalk and Veegum clean well and gently. Organic olive oil, an extract of olive leaves and plants traditionally known for effective dental care such as sage, Peruvian ratanhia root, myrrh and propolis complete the anti-inflammatory effect of the essential oils of sage, clove, cinnamon and camomile. Peppermint provides fresh breath and good taste. Healthy sweetness is provided by the sugar-free ""honey leaf"" from Brazil.
Low abrasiveness.

Free of added fluorides, synthetic surfactants, flavourings, colourings and preservatives; GMO-free. Developed under dental control.
Ingredients (full declaration): Chalk, sage hydrolate*, sorbitol, vegetable glycerine, olive oil*, clay, extract of olive leaves*, sage*, ratanhia root*, myrrh resin*, propolis* in organic spirit*; Titanium dioxide, xanthan, veegum, sugar tenside, natural stone salt, stevia leaf*, natural leaf green, mixture of essential oils*.
Components INCI. Chalk, Salvia Officinalis Distillate*, Sorbitiol, Gycerin, Olea Europaea Oil*, Clay Illite, Alcohol*, Olea Europaea Leaf Extract*, Salvia Officinalis Extract*, Krameria Triandra Extract*, Propolis Cera Extract*; Titanium Dioxide, Undecylenoyl Xanthan Gum, Magnesium Aluminium Silicate, Coco-Glucoside, Sales, Stevia Rebaudiana*, Chlorophyll, Aroma*; Lime**, Linalool**, Eugenol**.
*) from controlled organic cultivation (AT-BIO-301)
**) component of natural essential oils
Do you have any questions on this item?