Green & Kalamata Olives al naturale with chili and herbs, Organic, Vegan, Naturland-Fair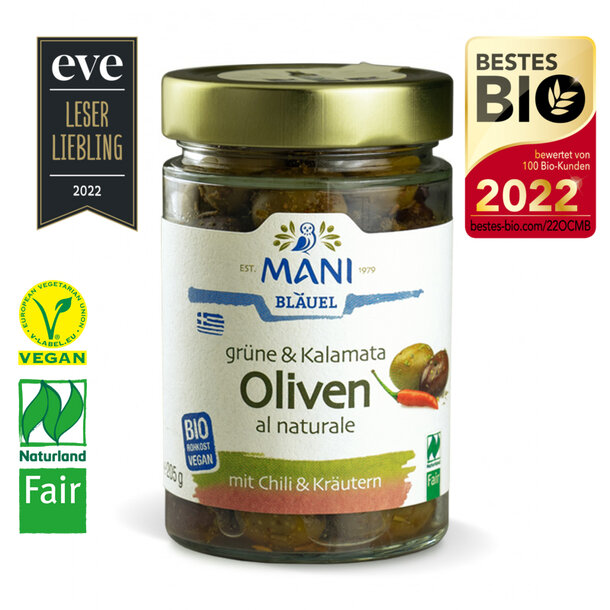 Scaled Prices
1 pc.
3 pc.
Stock
on stock
delivery 2-4 days
These fine, organic table olives of the variety Konservolia and Kalamon - also known as Amfissa and Kalamata olives - are only marinated in organic extra virgin olive oil with chilli and herbs and vacuum-packed - the pure taste of the noble olives in raw food quality! The firm fruit flesh of the green & Kalamata olives impresses with its wonderfully spicy taste.
Ingredients: Kalamata olives*º (48,5%), green Konservoliá olives*º (48,5%), sea salt, extra virgin olive oil* with chili*(2%), marjoram*, rosemary*, chili*(0,1%)

*Product of certified organic farming. (GR-BIO-03)
ºNaturland Fair certified (99%)
Nährwerte / Nutrition Facts
auf / per 100 g / ml

Energie / Energy

834 kJ

/ 200

kcal

Fett / Total Fat

19,9 g

davon: gesättigte Fettsäuren / of which: saturated fat

2,8 g

einfach ungesättigte Fettsäuren / monounsaturated fat

14,5 g

mehrfach ungesättigte Fettsäuren / polyunsaturated fat

2,6 g

Kohlenhydrate / Carbohydrate

1,5 g

davon Zucker / of which sugar

0,0 g

Ballaststoffe / Fibre

4,0 g

Eiweiß / Protein

2,0 g

Salz / Salt

3,5 g
Do you have any questions on this item?
Related Products
Customers who bought this product also bought these items: