Green Olives al Naturale, Organic, Vegan, Naturland Fair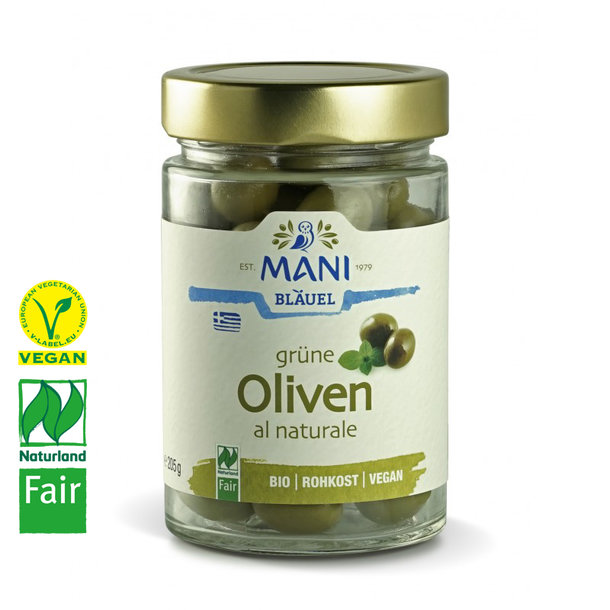 Scaled Prices
1 pc.
3 pc.
Stock
on stock
delivery 2-4 days
These exquisite Naturland Fair certified MANI organic green olives have a firm, crisp texture and exude a wonderful spicy flavour. Harvested by hand, these green table olives are naturally cured for six months and seasoned with MANI extra virgin olive oil, salt and aromatic oregano then vacuum packed in the jar.
Ingredients: Green olives*º (99%), oregano, extra virgin olive oil*, sea salt, lactic acid
*Product of certified organic farming. (GR-BIO-03)
ºNaturland Fair certified (99%)
Nährwerte / nutrition facts
auf / per 100 g / ml
Energie / Energy

614 kJ

/ 147

kcal

Fett / Total Fat

14,0 g

davon: gesättigte Fettsäuren / of which: saturated fat
2,2 g
einfach ungesättigte Fettsäuren / monounsaturated fat
10,0 g
mehrfach ungesättigte Fettsäuren / polyunsaturated fat
1,5 g
Kohlenhydrate / Carbohydrate
2,0 g
davon Zucker / of which sugars

0,0 g

Ballaststoffe / fibre

4,0 g

Eiweiß / protein

1,5 g

Salz / salt

3,4 g
Do you have any questions on this item?
Related Products
Customers who bought this product also bought these items: