COSTE DI MORO Montepulciano d'Abruzzo DOP, Organic, Demeter 0,75l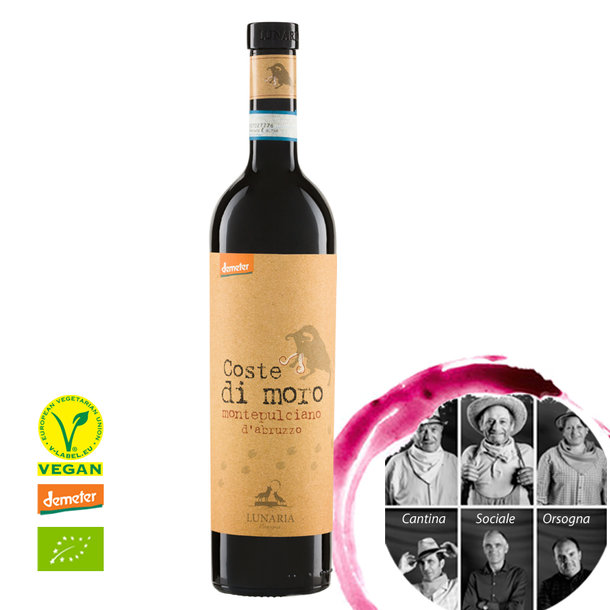 Scaled Prices
1 pc.
6 pc.
Stock
on stock
quick delivery
Skilfully vinified, extremely drinkable Montepulciano in Demeter quality. Clean fruit after blackberries and mild, vanilla spice with finely ground tannin, incredibly catchy and immediately successful!
JG 2016 Gold Mundus Vini BioFach 2020,
Gold Mundus Vini 2019, Gold
Concours Mondial Bruxelles 2020
Producer: Cantina Orsonga
Growing area: Abruzzo
Grape variety: Montepulciano
Vintage: 2016
Temperature: 18°C
Storage time: now + 2-3 years
Type of wine: red wine
Country: Italy
Quality: Quality wine
taste: dry
Vegan: yes
Goes well with: pasta, ragout, saltimbocca
volume 0,75l
Wine analysis
controlled by IT-BIO-009
Demeter Growers' Association
Sulphurous acid free (mg/l) 20
Total acid (g/l) 6.6
residual sugar (g/l) 9.1
Total sulphurous acid (mg/l) 88
Existing alcohol (Vol%) 14.2
balanced wine style
Do you have any questions on this item?
Related Products
Customers who bought this product also bought these items: