Olive Body Lotion, Organic, Greece, 100ml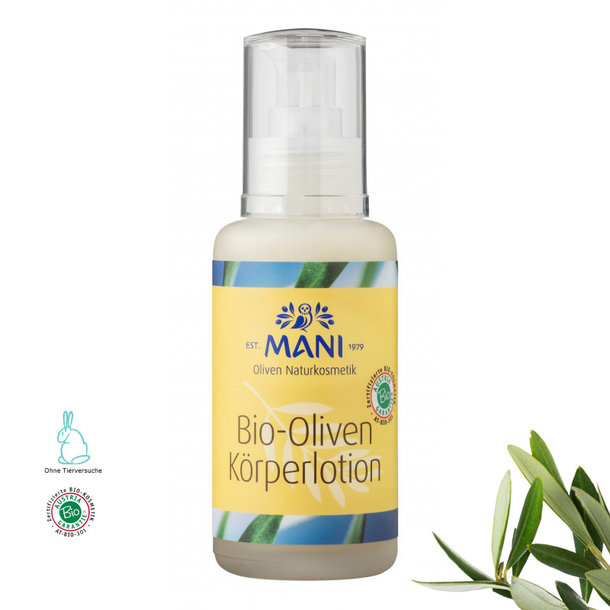 Scaled Prices
1 pc.
3 pc.
Price
0,1 Liter (€ 12,91 / 100 ml)
Stock
on stock
quick delivery
This olive body lotion is a light, quickly absorbed lotion for daily moisturising of any skin. The lotion is based on organic olive oil from Greece. The olive body lotion is free of synthetic fragrances and dyes. Without animal testing.
Use as bath milk: spread approx. 1EL in water.
Ingredients (full declaration):
Orange blossom hydrolate*. MANI Organic Olive Oil* Extract of olive leaves* in organic alcohol* Aloe Vera Gel*. Pure wool wax . Alumina . plant emulsifier . Beeswax*. Lecithin* natural vitamin E . xanthan gum . potassium sorbate . Lactic acid . preserved with sorbic acid . Essential oil mixture*.
Components INCI:
Aqua Citrus Amara*. Olea Europaea*. Alcohol*, Olea Europaea*. Aloe Barbadensis*. Lanolin. Clay Illite . Cetearyl Glucosides (and) Cetearyl Alcohol . Cera Alba* Lecithin*. tocopherol . xanthan gum . Potassium Sorbate . lactic acid . Sorbide Acid . flavour*. *)From controlled organic . cultivation
Based on MANI organic olive oil. Raw materials from certified organic olive oil. cultivation*. Free from synthetic fragrances and dyes. Without animal testing.
Keep cool and closed.
Contains the following natural essential oils: limonene, linalool, geraniol, citral, benzyl, benzoate, farnesol
Do you have any questions on this item?
Customers who bought this product also bought these items: