Olive Herb Oil, Organic100 ml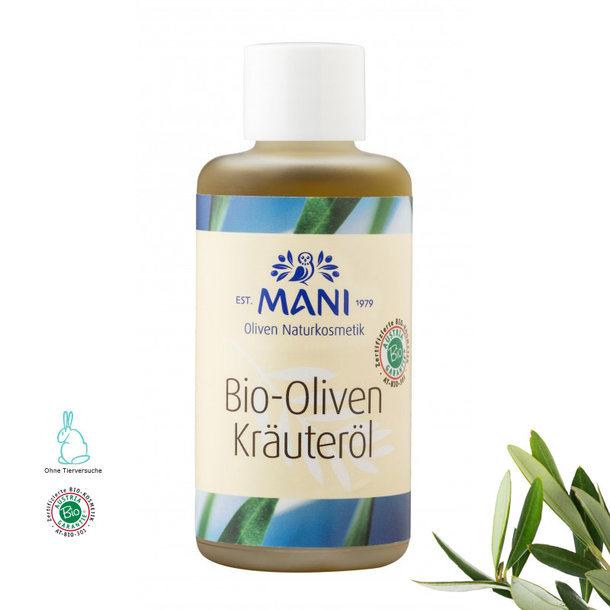 Scaled Prices
1 pc.
3 pc.
Price
0,1 Liter (€ 13,91 / 100 ml)
Stock
on stock
quick delivery
Ideal as body, bath and massage oil. Mild cleansing especially for very dry skin.
Applications:
Cleansing of face and neck: Let the oil act like a wine, remove with a moist cotton pad.
Body oil: Massage into the still slightly moist skin.
Bath additive: Add a cap of Mani Bio-Olive Shampoo mixed into the bath water.

Based on MANI Organic Olive Oil. Raw materials from controlled organic cultivation*.
Free of synthetic fragrances, colorants and preservatives. Without animal testing.
Ingredients (full declaration):
extracts of olive leaves*, marigold*, lavender*, sage* and rosemary* in MANI organic olive oil* natural vitamin E. ether. Oils*: Tangerine*, lavender*, clary sage*, coriander* etc.
Components INCI:
Olea Europaea* . Calendula Officinalis* . Lavandula Angustifolia* . Salvia Officinalis* . Rosemary Officinalis* . Tocopherol Flavor* *) Raw materials from contr. biological materials
Store in a cool and sealed place.
Contains as a component of natural essential oils: limonene, linalool, geraniol, citral
Do you have any questions on this item?
Customers who bought this product also bought these items: