Tomato paste, Greece, organic, 180g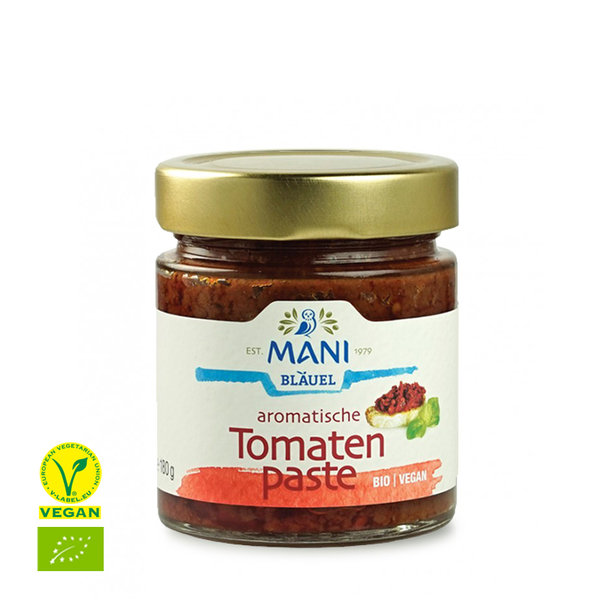 Scaled Prices
1 pc.
3 pc.
Stock
on stock
delivery 2-4 days
On stock: 16
This paste of finely chopped, sun-ripened tomatoes, combined with mildly fruity extra virgin olive oil and refined with a little basil is an exquisite, mildly spicy taste experience. This aromatic spread has many culinary applications.
The tomato paste is excellent as an appetizer on toasted white bread, as well as for enhancing sauces. Also fabulous with feta cheese.
Ingredients: sun-dried tomatoes* (64,2%), extra virgin olive oil* (35%), balsamic vinegar*, basil*, sea salt
*Certified Product of Organic Farming (GR-BIO-03)
Thanks to the gentle, natural sun-drying method, the tomatoes maintain all their valuable, heat-sensitive properties such as vitamin C and lycopene. It takes between 8 and 14 kilos of fresh tomatoes to make a single kilo of sun dried tomatoes. Only 40 grams of our sun dried tomato paste (corresponding to 28 g of sun dried tomatoes) contain the vitamins, minerals and dietary fiber provided by a whole, large sized fresh tomato.
Nährwerte / Nutrition Facts
auf / per 100 g / ml

Energie / Energy

1624kJ

/ 395

kcal

Fett / Total Fat

39,6 g

davon: gesättigte Fettsäuren / of which: saturated fat

6,0 g

einfach ungesättigte Fettsäuren / monounsaturated fat

30,8 g

mehrfach ungesättigte Fettsäuren / polyunsaturated fat

2,8 g

Kohlenhydrate / Carbohydrate

5,0 g

davon Zucker / of which sugar

4,8 g

Ballaststoffe / Fibre

6,3 g

Eiweiß / Protein

1,5 g

Salz / Salt

3,0 g
Do you have any questions on this item?
Customers who bought this product also bought these items: