Retsina GRECA TERRA, Organic, 0,75l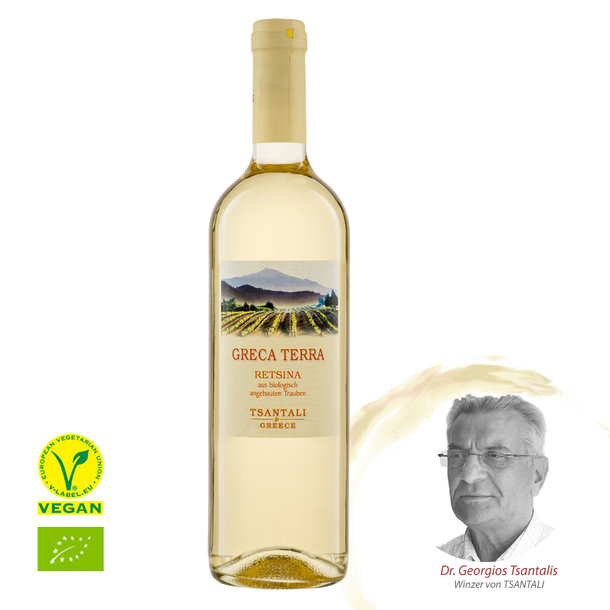 Scaled Prices
1 pc.
6 pc.
Stock
on stock
quick delivery
In Greece the retsina is experiencing a small renaissance as a worldwide unique speciality. The modern version of the resinated wine does not taste like the old days, but rather more or less like our Greca Terra. The basis is a fresh, fruity white wine that would be fun to drink even without resin. The resin dosage is deliberately adapted to the German palate and is somewhat more reserved. Surprised? Just try it, best with Mezedes = Tapas = Antipasti misti. Wonderful!
Producer: Tsantali
Growing area: North of Greece
Grape variety: Roditis
Year: 2018
Temperature: 11 °C
Storage time: now + 1-2 years
Type of wine: white wine
Country: Greece
Quality: Country wine
taste: dry
Vegan: yes
Goes well with: Antipasti, sea food
volume 0,75l
Wine analysis
controlled by GR-BIO-03
Sulphurous acid free (mg/l) 32
Total acid (g/l) 4.4
Residual sugar (g/l) 1.8
Total sulphurous acid (mg/l) 182
Existing alcohol (Vol%) 12.7
Wine style uncomplicated
Do you have any questions on this item?
Related Products
Customers who bought this product also bought these items: